Are you headed on an international vacation soon? Or maybe you are in for a flight to address a business meeting or seminar. Whether you are going for fun, work, or the purpose of pure exploration, going abroad always comes with its own challenges and responsibilities.
Are you someone who is extra careful when traveling anywhere? Do you have any medical condition(s)? Or, are you prone to getting sick due to environmental changes? If yes, you need visitors insurance before you start your journey.
Insurance companies from most countries claim to offer the best insurance policies to travelers. However, a travel insurance plan taken out in your home country might not cover you comprehensively in an overseas country. And therefore, you need more coverage that can offer complete protection if you fall sick or get injured during your international trip.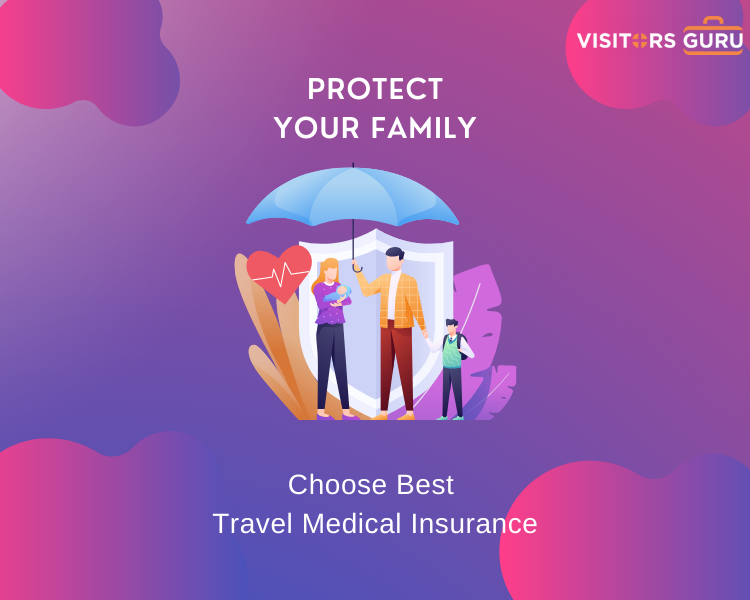 What is Travel Medical Insurance?
Travel Medical Insurance, also known as Visitors Health Insurance, is an insurance policy that offers health coverage to the policyholder in case of emergency in a foreign country. In addition to health coverage, Visitors Insurance will also include emergency travel coverage, including a trip interruption, loss of baggage, return of a minor, emergency medical evaluation, to mention a few.
Why is Visitors Health Insurance Necessary?
Different countries have different rules pertaining to Visitors Health Insurance. For example,
Some countries have compulsory guidelines for travelers that make having a visitor's health insurance mandatory.
Some countries do not have such hard and fast rules.
Some countries have made travel medical insurance compulsory after the pandemic.
But, some already had this requirement in place even before the COVID-19 scenario.
However, being a traveler, you too have some responsibilities, regardless of the pre-set rules set by the destination country. Now, let us find out why visitor's health insurance is necessary.
A travel medical insurance plan pays for your medical bills in a foreign country if you, unfortunately, become ill or suffer from any injury. It is especially important for visiting countries like America, where healthcare costs are skyrocketing. Having a travel medical insurance plan makes approaching healthcare easy and hassle-free.
Besides medical benefits, a travel health insurance policy also covers various aspects of your journey, including lost luggage, trip interruption, and so on.
What scenarios require travel medical insurance?
There are certain situations in which you require travel insurance. These situations include the following:
Sudden or New Illness or Sickness: If you are healthy while traveling and suddenly contract a condition that you didn't have before, then your visitor's health insurance will cover the expenses for treatment. What if you need to visit a healthcare facility for medical check-ups or emergencies? In all such cases, a visitor's health insurance is crucial. However, most insurance plans do not cover pre-existing conditions. Therefore, make sure to check with your insurance provider before buying one.
The Country Requires It: Some countries do not permit entry to travelers unless they have a visitor's health insurance. Before you fly internationally, check in with your destination country's official website to confirm whether you need travel medical insurance or not. Because of the coronavirus crisis, some countries have updated their policies and require travelers to come with proper visitors' health insurance. After all, it is better to be late than sorry!
You Need Maximum Protection: It is pretty understandable, especially in these trying times, to feel the need to be completely protected. If you have never traveled abroad and want to maximize your safety, the one way to do it is to get a visitor's health insurance. With this insurance, you know that you have protection in emergencies like natural disasters, injuries, criminal activities, and even simply catching a cold.
Accidents and Injuries: Accidents and injuries are always unforeseen. So if you ever meet with an accident or get injured while abroad, your travel medical insurance will provide you with decent coverage.
Medical Evacuations: If you need sudden transport and evacuation due to an unforeseen medical emergency, the cost will be covered by your visitor's insurance.
Posthumous Return: In extreme circumstances, medical health insurance will cover the posthumous return of a deceased traveler (if they had availed visitors' health insurance before traveling).
What Is Not Included in A Visitors Health Insurance?
Most visitors health insurance does not typically include the following:
Maternity, Pregnancy, and childcare
Eye related treatments like vision check-ups or getting eyeglasses
Mental or nervous disorders
The above are just some exclusions. You always need to go over the plans policy document for the complete list.
Which Countries Require Travel Medical Insurance?
After the Coronavirus pandemic, most countries require travel medical insurance and don't permit entry to travelers otherwise. Here are a few countries where you must get visitors health insurance before you go:
Antarctica
Seychelles
Lebanon
Schengen countries
Turkey
Iran
Ecuador
Cuba
Cambodia
Moldova
Algeria
Aruba
UAE
Georgia
Morocco
Croatia
Thailand
Romania
In some countries, for example, the United States of America, the healthcare system is highly expensive. Although the country does not require a travel medical insurance plan compulsorily, travelers must get it for safeguarding their own financial interests.
What is the difference between Travel Medical Insurance and International Health Insurance?
Travel medical insurance:
Travel Medical Insurance is designed mainly for people traveling for a holiday, a small business trip, or any other type of short trip.
A travel medical insurance plan ensures that you get sufficient coverage against medical emergencies or any disruptions that you may come across during your trip.
International Health Insurance is a long-term health coverage when your stay is one year or longer. International health insurance also comes in handy when you're permanently relocating to another country for studies or work. While the international health insurance will cover all your medical expenses and is long-term, it does not cover difficulties or disruptions faced in a trip.
Where Can I Get Visitors' Health Insurance or Travel Medical Insurance?
There are quite a few places where you can get good visitors health insurance:
Travel Insurance Brokers
Travel insurance brokers are platforms that usually operate online and let you learn about the best travel insurance plans from different insurance companies.
Using the services of a travel insurance broking website is an excellent option for two main reasons.
Firstly, you don't have to go anywhere physically but can complete the process of comparing and buying a plan online. For people with social anxiety, this is a great benefit.
Secondly, instead of being restricted to one single travel insurance company, you can access the offers by multiple travel insurance companies. This way, you can also compare the information and select what's best for you. However, make sure to be informed. Fraudulent entities may pretend to be travel insurance brokers and dupe you. So, choose a reputed and reliable insurance broking platform.
Thirdly, without any extra cost, you will get an extra layer of support during and after the purchase of the policy.
Travel Insurance Companies
You can get a travel medical insurance plan directly from a travel insurance company. However, the available plan options are limited to what the company offers. Purchasing a visitor's health insurance directly from companies specializing in the field has its benefits.
Firstly, travel insurance companies know what they are dealing with. They understand the insurance and healthcare system of whichever country you are heading to. So, you will not have to research or put in any effort.
Secondly, a travel insurance company is knowledgeable of every country's requirements. So, they suggest insurance plans befitting your situation.
Thirdly, travel insurance companies come up with excellent insurance packages. You may visit a reliable insurance broking website and compare multiple policies using their policy compare feature for a quick review.
Lastly, travel insurance companies also offer seamless customer assistance throughout your trip. So, you will be in safe hands.
Travel Agency
If you're traveling through an agency, then you can ask them for a visitor's health insurance. They are affordable and convenient in the first place because they'll already be handling your affairs and will introduce you to packages that go perfectly well with your traveling plans.
Airline
You may also count on the airline you are flying with because most airlines are likely to offer travel medical insurance. While airlines don't generally act as travel insurance companies, some airlines may provide complimentary travel insurance. You can avail these while you're booking your flight or buying your ticket. Travel health insurance or visitors' insurance from an airline company will definitely be best-in-class. However, do remember that good quality comes at a cost. The higher the quality of the insurance, the higher it will cost.
So, this is a glimpse into the idea of Travel Medical Insurance and why it is critical for your international trip.
Disclaimer: This content is just an overview of the plan benefits presented only as an example and does not replace the Insurance Certificate and other relevant policy documents in any way. The only presentation of the actual benefits of the policy is the Insurance Contract.