Are you planning to travel abroad but worried about your eventualities and safety? Consider getting insurance for USA visitors. It's the best insurance plan as it covers you from losses and other eventualities that may affect your health while abroad.
Insurance for visitors is an emergency medical coverage for tourists and travelers visiting abroad. This policy covers various eventualities like evacuations with ambulance services, airlifts to hospitals. The medical insurance that travelers have in their home countries doesn't cover them outside the country and thus, it's important to consider mitigating any eventualities.
Insurance for visitors covers a traveler for a short period. All travelers are advised to consider visitors insurance every time they are out of their country because most medical facilities abroad are often privately owned. Getting treatment in these facilities is expensive.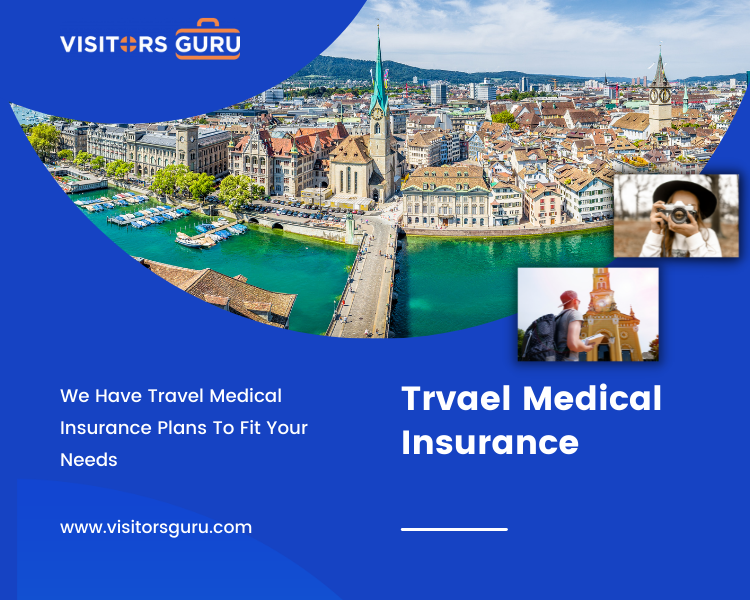 Is It Worth Purchasing Travel Medical Insurance Cover?
Many people travel overseas but neglect buying travel medical insurance because they assume that nothing will happen to them within the few days they will be out of the country. They also don't realize the importance of visitors health insurance as it can cover huge bills in foreign hospitals in case of anything.
Apart from medical benefits, medical evacuations, and repatriation of traveler's remains, travel medical insurance plans offer many additional perks, including 24-hour assistance and even a bedside visit by professionals. Following are major reasons for getting visitors insurance:
When traveling to a new place, one may encounter difficulties in adapting to the new environment and be susceptible to severe illnesses. Many travelers are prone to food poisoning, especially after trying out local cuisines that they aren't used to or drinking contaminated water. Travel health insurance will come in handy for such cases as they'll seek the best medical care available in the region.
Accidental Death & Dismemberment (AD&D)
Many health insurance companies have included life insurance in their packages. Accidental Death & Dismemberment (AD&D) cover helps in case the travelers die while in a foreign country or lose parts of their bodies like a limb. No one thinks this might happen to them, but it's always good to consider.
During travels, various emergencies might occur back at your home, such as the loss of a close relative, a sick child or spouse, your primary house catching fire and much more. Such eventualities force tourists to shorten their stay and get back home. Travelers should always consider a package that includes trip interruption benefits in every travel plan. The policy covers any extra expenses incurred when the traveler decides to cut short the trip abruptly.
Baggage delay assistance usually entails the purchase of urgently needed clothing and toiletries. The issue is common in many airlines. A travel insurance medical plan with luggage loss cover as one of its extra packages will be helpful in such a situation.
What are the different types of Travel Medical Insurance plans?
Fixed/Limited Benefit Plan
The cost of the plans is cheap, but the benefits are also low. The insurance company pays a certain fixed amount for the covered benefits based on the pre-defined benefits schedule, typically published in the plans policy document. There are high chances that you may have to pay out of your pocket for the uncovered portion of the expenses.
The cost of the plans is expensive compared to the fixed benefits plans but also comes with higher benefits. After meeting the deductible, the insurance company pays up to the policy's maximum limit for the covered benefits. Some of the plans also come with extra benefits like a Trip interruption, lost luggage, and other benefits.
What is Covered by Travel Medical Insurance?
Following are some of the covered benefits of travel medical insurance. The benefits differ from plan to plan, and the complete list of benefits and exclusions are typically published in the plans policy document.
New illness or injury suffered by the insured person during the covered period.
Emergency Local Ambulance
Interfacility Ambulance Transfer
Emergency Medical Evacuation
Accidental Death & Dismemberment
Return of Mortal Remains or Cremation/Burial
Urgent Care Clinics
Natural Disaster Evacuation
Trip Interruption
Lost Luggage
What is the Cost of Travel Health Insurance?
Typically the cost of the plan is around $2 per day, often fair and affordable.
The plan's cost is calculated based on the age of the traveler, duration of their travel, the deductible and the maximum limit.
What's not covered?
When procuring insurance cover, it's essential not to assume that everything medical-related will be covered. Thoroughly scrutinize the medical body before purchase and see all their exemptions. Below are various things that most visitors health insurance policies doesn't cover:
Pre-existing conditions – If a traveler has any pre-existing illness like diabetes, many insurance companies are unlikely to cover the associated costs, such as medications or doctor visits. Some insurance companies only cover the acute onset of a pre-existing condition.
Most visitors insurance companies don't cover any expenses related to the pregnancy if traveling while pregnant. However, you should research further and find out some packages that include travel insurance for pregnancy-related complications.
Medical treatment due to drugs or alcohol abuse.
Medical treatment due to irresponsible behavior such as participation in dangerous sports
Traveling against the advice of the government.
What Factors Should Travelers Consider When Procuring Travel Health Insurance?
There are many travel health insurance plans in today's market, making it hard for one to choose. First, go to the broker's website and look for various product quotations, side-by-side comparison plans, and websites that allow you to make instant purchases online.
Travelers should be keen and double-check to ensure the broker is fully-certified and knowledgeable about travel insurance. A reputable broker should recommend the best plan for your specific needs, making the whole process smooth and straightforward.
Take advantage of their knowledge and expertise. You should also be honest and transparent with them about every detail of the trip and medical requirements when purchasing trip medical insurance.
Is Disability Coverage Included in Medical Travel Insurance?
Typically Travel Medical Insurance doesn't cover pre-existing conditions and disabilities.
However, this is a case-by-case situation. The traveler should speak with a travel medical insurance company about how their disability fits into their policies and get further advice on the matter.
What to Know When Making a Claim from a Medical Travel Health Insurance
At some point, the traveler will be required to file a claim on their insurance. It's essential to have all the information at your fingertips to ensure you expedited the entire process properly. In some cases, hospitals can directly bill the insurance company and in some cases, the insured need to file the claim with the insurance company.
Following are some of the things you need to know:
A doctor's note is required to back up your claim. A doctor must document details of your condition and treatment administered due to a medical emergency. The document must include a detailed physician's statement of the diagnosis.
Travelers should make sure they contact the insurance company promptly. You need to file the claims within a certain period as defined by the insurance company; else the claims will be declined. Any questions one has should be directed to the insurance company; this will also be a way of notifying them in case of an issue that needs emergency attention. Most insurance providers have 24-hour customer service assistance, never ignore or assume any problem(s).
Documents Needed when Making Claims
You'll need receipts and itemized bills for all of your expenses to back up your claim
A doctor's explanation of the diagnosis (medical claims) or a "Physician's Statement" police report (stolen baggage or car collisions)
A proof that baggage was delayed from the airline
The above information helps you understand the importance of visitors health insurance and your safety as an abroad traveler. You must always read the Insurance policy/certificate for the complete benefits and exclusions before purchasing the policy.