What is the one thing that bothers you when you travel abroad? Unprecedented expenses. Almost everyone will agree that the medical expenses pause the blissful moments when traveling abroad. However, you are protected if you have Safe Travels USA Comprehensive Medical insurance.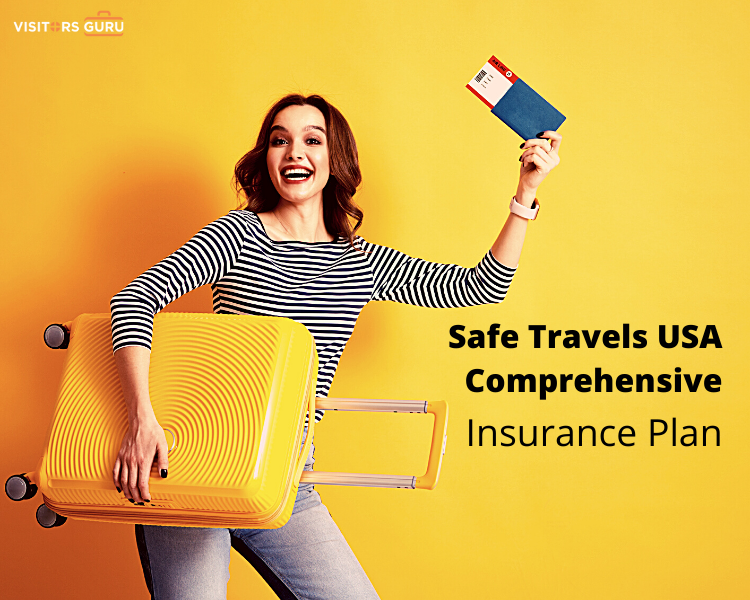 Yes, you heard it right! Comprehensive insurance plans are one of the most popular plans that allow users to cover up to 100% of their eligible medical bills. With a Safe Travels USA Comprehensive Insurance, you can cover:
Medical accidents and sickness
Emergency evacuation (medical/ political)
Return of someone's remains to their own country
Trip interruption
Baggage 
Accidental death or dismemberment
In fact, Safe travel USA comprehensive reviews confirm that you can get around $1,000,000 in emergency medical coverage. It is pretty helpful for a visitor traveling to the USA. 
Let's dig deeper and learn more about the Safe Travels Comprehensive Insurance Plan. 
Comprehensive Travel Insurance: What is it? 
If you are a Non-US citizen between the age of 0 and 89 years and traveling outside your home country, you must know about Safe Travels USA Comprehensive Insurance. This is quite beneficial in the case of acute onset or cardiac-related conditions. 
Here are the necessary plan details that you must know.
The coverage length will be a minimum of 5 days and can go up to 365 days. 
You can renew the policy online from around five days to 2 years. 
The coverage for the acute onset of a pre-existing condition, if you are under the age of 70 years, will be to the maximum limit. It will be up to $35000 if you are between 70-79 years, and if your age exceeds 79 years, it will be up to $15000.
The coverage will change if you have an acute onset related to cardiac conditions. It is around $25000 if you are under the age of 70, and it will be up to $15000 if you are between the age of 70 to 89. 
You will get access to PPO Network. If you are within the network, the plan will pay around 100% up to the policy maximum after the deductible is paid. You will get approximately 80% of the first $5000 and 100% up to policy max. 
If you are thinking about what "Pre-existing condition" is, here's what it means!
Pre-existing condition
The definition implies any injury, illness, or condition that existed at the time of application or during 36 months before the date of insurance, whether manifested, diagnosed, treated or disclosed to the company. Ideally, it includes a lot of conditions but isn't limited to them.  
How much will Safe Travels USA Comprehensive Insurance cost you?
You must be wondering how much you need to pay to get the best perks or benefits. Honestly, pricing depends on a lot of factors like:
Plan limit
Age
Coverage days
Ideally, the higher you go in terms of limits, age, or coverage days, the premium will automatically increase. If you want any optional coverage, the premium amount rises naturally. If you're going to reduce it, you will have to go for a higher deductible. 
What about the plan limit? Typically, there are five options for Safe Travels USA Comprehensive Insurance Cost: $50k, $100k, $250k, $500k, or $1000k. The premium will go up according to the age of the person. You could also opt for optional benefits like adventure sports coverage and 24 hr AD&D upgrade. However, it will also impact the premium. 
But why should I buy one? Is that what's coming into your mind? Let's unlock the benefits of having a Safe Travels USA Comprehensive Insurance Policy.
Safe travel USA Comprehensive Reviews
First of all, the primary benefit of the policy is that it covers your injury and illness during your policy period. So whether you need a diagnosis or surgical treatment, having this plan will help you get access to coverage in the following ways:
You will get expenses for the hospital room and board expenses according to the rate for a semi-private room. In this, the date of admission will be counted to compute the number of days. 
You will get paid for the services and supplies when admitted to a hospital-like operating room, lab tests, medicines, or anything within the hospital. 
You will get emergency care expenses incurred within 24 hours of the onset of a pre-existing condition or 72 hours of a newly diagnosed injury. This will include charges of a doctor, x-rays, lab procedures, follow-up visits, and the use of the emergency room and supplies.
If you require any non-surgical treatment or examination, you will be insured for that if the attending doctor refers to it.
It will also include anesthesiologist and physiotherapy expenses (including any treatment prescribed by the doctor), along with an ambulance, prescription drug, medical services, or mental/ nervous disorder services. 
In the case of pregnancy, you will get up to $1000 per policy period, and in the case of mental or nervous disorders, you will get around $2500. 
Besides this, you will also get benefits like:
$0 and 100% In-Network Deductible and Coinsurance, respectively. Also, the Safe Travels USA Comprehensive plan will help you with an almost $2 Million Emergency Medical Evacuation Benefit and a $25,000 evacuation when things go haywire. 
Not only that, the policy will help you with around $5,000 in Trip Interruption and $1,000 in Basic Lost Baggage. Also, there will be AD&D benefits (approx. $200,000). And this will include the principal sum of $25,000. 
But, what will be the benefit period?
You will be eligible for the expenses for around 90 days, starting from the first day of diagnosis or treatment when traveling outside your home country. It will only apply to eligible medical expenses related to the injury or illness. But once you get back to the home country, it will cease to exist.
Key Takeaways
Besides the other essentials, having a Safe Travels USA Comprehensive Medical insurance is an excellent plan if you are traveling abroad. That way, you can have a stress-free time outside your home country. You can connect with the providers and find what policy will benefit you the most.