Did you know parents contribute to a considerable percentage of travelers to the US from countries like India? Yes, among the millions of visitors to the United States of America every year, the number of parents willing to meet their children working or residing there is notable. Do you live in the USA? Do you also wish your parents to visit you for a couple of weeks or months? Great!
Although your parents must be pretty calculative when planning their international trip, they might not be aware of the intricacies of the healthcare system in the US, along with the high costs involved. Therefore, it is your responsibility to ensure they have crossed all the T's and dotted at the I's. One of the gold standards to keep in mind when traveling to the US is getting a parents visitors insurance plan.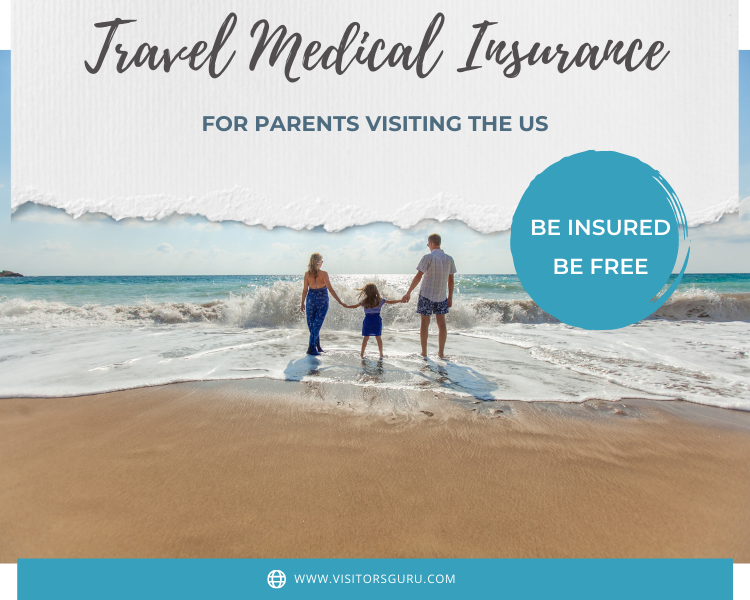 Immunize your trip with COVID-19 coverage!
Most importantly, owing to the global health crisis caused by the COVID-19 and its various variants, international travel has worn a certain level of contingency. Therefore, every traveler should ensure buying adequate travel insurance coverage before taking off overseas. Insurance is even more critical if the passengers are old, given their susceptibility to the virus.
As far as parents, especially senior citizens, are concerned, if they are traveling to the US, it is obvious that numerous safety concerns surrounding the trip will bother you. The grade of anxiety levels up even more owing to the pandemic situations. However, there is a fool-proof way to ensure the safety of your parents during their international trip. Probably, you know what we are trying to convey here – a visitors insurance plan.
So, the question is – should you get a parents visitors insurance plan for your parents visiting the US? Well! Visitors Insurance is not mandatory by law in the US. However, a parents visitors insurance plan for parents can be your savior if they fall ill or get injuries during their trip. A valid parents visitors insurance or visitors insurance policy will help you sustain the high cost of medical care in the US.
It is especially crucial for elderlies because they are more vulnerable to changing temperatures, altitudes, and pathogens. Unfortunately, if they become sick due to a health condition or accident and are not insured under a travel health insurance plan, the medical bills can quickly mount. The numbers may also reach the figures of hundreds and thousands of dollars.
Travel health insurance: The Types
You can choose from the following visitor health insurance plans for your parents:
Fixed benefit parents visitors insurance: As the name makes it pretty clear, this type of plan offers fixed benefits and covers a pre-fixed amount of your hospital bills, and you (the policyholder) are liable to pay the remaining amount. What if the pre-fixed amount is lower than the medical bill? You will be responsible for shelling out a considerable amount of money out-of-pocket to meet the bill requirements. It may end up increasing your financial burden. Plus, its extent of coverage is also limited.
Comprehensive parents visitors insurance: This type of parents visitors insurance policy will compensate you on a percentage basis. Depending on the plan or policy maximum you choose, the plan will pay from around 75% to 100% of your covered medical expenses up to the pre-decided policy maximum. A comprehensive travel health insurance plan is a bit pricier than a fixed-benefit plan. However, the former is worth an investment.
Travel Health Insurance: Why do you need it?
Are you a US resident? Are your parents visiting you all the way from India? Are you wondering if or not you should buy travel health coverage for your parents? Dear reader, parents visitors insurance is critical for all international travelers coming to the USA, including parents (senior citizens), for the right reasons. Take a look at the pointers given below for more clarity.
Access quality healthcare without having to jeopardize your parents' health
Senior parents are vulnerable. They can contract microbe-bound diseases easily while their bodies can respond to even a minor change in the environment, temperature, humidity, and altitude. What if your parents become sick during their trip to the US? Having a parents visitors insurance plan will ensure that they have access to quality healthcare as and when needed, without having to worry about their financial planning.
Navigate through the intricacies of the healthcare system easily.
The healthcare system in the US is costly. Only one visit to the hospital can take you to the verge of bankruptcy. However, if you have visitor health insurance coverage in place, you can navigate medical care easily without burning holes in your bank account. Also, given the cost of medical care in America, you will find an insurance plan way more cost-effective than not having it.
Get COVID-19 coverage while ensuring peace of mind.
In light of the current scenario across the globe, pertaining to the pandemic, a parents visitors insurance plan offering COVID-19 benefits is a must-have for all international travelers.
Safeguard your finances from accidents
In a new and unfamiliar place, the risks of getting involved in accidents are high. God forbid, but what if your dad or mom ends up in the emergency room due to a road collision? It could mean a big financial setback in one go. However, if your parents have the assurance of visitor insurance, the policy will take care of them.
Avail emergency medical evacuation, if needed
What if your parents become sick while vacationing at a remote place during their trip to the US? They might need emergency medical evacuation to the nearest qualified healthcare facility or their home country. Just like medical care, the cost of emergency evacuation is also high in America. However, when you have an insurance plan handy, your insurance company will intervene and pay for the evacuation services.
Note: If you have been working in the USA and living as a legal resident, you can buy health insurance. However, you cannot include your visiting parents in the same. They have to buy separate travel health insurance to ensure their safety.
Parents Visitors Insurance means a mixed bag of benefits – Health + Travel.
In addition to covering the cost of medical care and emergency evacuation, an all-encompassing travel health insurance plan offers many other benefits, such as coverage for loss of baggage, trip delay, trip interruption, etc.
If you use a reliable parents visitors insurance broking platform, you can do two crucial things – compare multiple policies and get a quote from the noted insurance providers. A reputable insurance broking portal is user-friendly, informative, and transparent. So, you can rely on the details given on their website and choose a travel health insurance policy accordingly.
Parents Visitors Insurance: The inclusions
Most insurance policies cover a cluster of medical conditions and procedures. The extent of coverage solely depends on the type of parents visitors insurance policy you buy. So, when you have finally decided to buy a travel health insurance policy for your parents, make it a thumb rule to compare several plans to figure out which one meets the requirements of your parents. Standard parents visitors insurance policies are likely to cover the following:
Cost of consulting a medical professional
Cost of hospitalizations
Cost of surgical procedures
Cost of diagnostic tests
Cost of medications and prescription drugs
Not all, but some travel health insurance plans also cover dental conditions, acute-onset of pre-existing illness, and accidental death and dismemberment (AD&D).
Before you buy a plan, make sure to do your homework properly. It will help you understand your needs. Based on your requirements, you can buy a suitable visitor health insurance plan to safeguard your journey and finances at the same time. If you are not aware of your needs, sit with your family members and discuss. You may also visit a reputed insurance broking website. The information on the website will help you get a better insight into different policies and how they work.
Parents visitors insurance: Go for a US-based insurance company.
Although you will find many parents visitors insurance companies in your home country, it is advisable to buy it from a US-based insurance provider. The reasons are:
US-based service providers are well-versed with the complexities of the American healthcare system. So, they can help you in a better way.
They understand the ifs and buts of availing of healthcare services in the US. So, they can help deal with a situation efficiently.
The US-based companies have a network of the best doctors and hospitals operating in the state. So, they can suggest best-in-class healthcare if your parents become sick or suffer an accident.
The best way to find a best visitor insurance plan for your parents is by checking out a trustworthiness insurance broking portal. With them, you can choose from multiple insurance products. Plus, as they feature US-based insurance carriers only, you can take a sigh of relief. So, get the best price guarantee and choose an appropriate parents visitors insurance plan without fail.
Frequently asked questions on Visitors Health Insurance
Which would be a more cost-effective option – buying an insurance plan from a US-based or India-based service provider?
Well! The price of parents visitors insurance varies a lot, depending on various factors, including the extent of coverage, the age of the policyholder, the destination, and of course, the service provider. As far as the best option is concerned, payment and claim settlement become much more hassle-free if you buy it from a US-based company. Also, considering the age of your senior parents and the pandemic, it would be wise to buy parents visitors insurance from an insurance provider located in the US.
What if my parents' trip to the US got canceled, but I have already purchased a parents visitors insurance plan for them? Can I request a cancellation and refund?
One of the best things to do in such a condition is to talk to your insurance broker or insurance provider. As the terms and conditions of the insurance plans are likely to vary, seeking professional assistance is advisable.
With some insurance companies, if you cancel the policy before the effective date, you are eligible to get a full refund. However, it varies.
My parents have made no claims with their insurance provider (parents visitors insurance). However, they want a policy cancellation. How does it work?
Again, the terms and conditions of different insurers would be different. However, in many cases, if you have filed no claims, the insurance company will charge a cancellation fee and refund the premium amount. An important thing to note here is – you will get your premiums back only for the period after cancellation.
Hopefully, this blog is helpful enough to clear all your basic doubts around buying a parents visitors insurance plan for your parents visiting the US.!