Prevention is much better than looking for a cure. Desiderius Erasmus, the famous Dutch philosopher, said it right. Centuries have passed, but this adage is still prevalent and will always be. We can relate to this saying in almost every walk of our lives. Whether health or travel, it is always wise to be prepared for the unforeseen. Isn't it?
So, without much ado, let us talk about international travel, health, and the importance insurance for USA visitors as a preventive measure.
From lost baggage to medical emergencies, from rushing to the emergency room to medical evacuations, situations like these can ruin your international trip big time, making you descend into the burden of unforeseen costs. However, just one piece of paper can save your overseas trip – a copy of your insurance for USA visitors.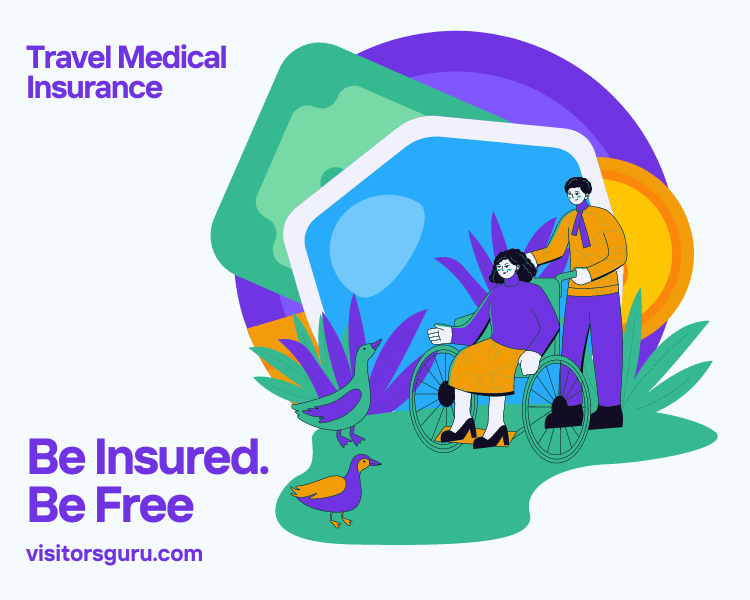 Let us find out how Travel medical insurance for USA visitors covers you:
Medical benefits
Unexpected health crises, such as food poisoning, slip-and-fall accidents, road collisions, etc., are not new to international traveling. Depending on the destination and the severity of your health condition, you may incur hefty medical bills when traveling abroad.
You may rest assured that your domestic medical insurance plan will cover you worldwide. However, most health insurance plans taken out in home countries either do not provide international coverage or provide coverage with caps.
If you are not sure about the extent of coverage, you should check the same with your insurer. And if you find that your current health insurance will not cover you internationally, get a travel medical insurance for USA visitors plan for sure.
Do remember. Even if you are in the pink of health, accidents are always unpredictable and affect your health and well-being. Right?
For example, you are strolling through the streets of a state in the US when suddenly your knee got twisted, tearing your meniscus, and you need to see a doctor urgently.
Or, you end up getting food poisoning leading to emergency hospitalization.
These are only a couple of situations that can go bad. Many more grave things can happen overseas. And only an adequate travel medical insurance for USA visitors plan can help you through, even if it cannot deter the contingency.
Emergency medical evacuation
Is taking out emergency medical evacuation imperative for international travelers? Many travelers believe they will not need this benefit as their trip involves simple sightseeing, with no adventure at all. However, emergencies do not differentiate between a leisure traveler and an adventure enthusiast. Right? Therefore, emergency medical evacuation is vital for every traveler.
If you get injured or contract a health condition during your international trip, requiring immediate medical care, quite obviously, you would need to be taken to the nearest healthcare facility. However, what if the local hospital does not offer proper medical care or does not have sufficient medical supplies or doctors? In such scenarios, emergency medical evacuation is the tool you need. And, you can avail of this benefit with a good travel medical insurance for USA visitors plan.
The core intent of emergency medical evacuation coverage is to vacate or transport the policyholder from an unequipped healthcare facility to a better place to treat a medically severe condition. The purpose of this coverage is to save the life or limb of the policyholder by ensuring specialized medical care they need.
Here is an example to help you understand this coverage in a better way:
Picture this: You are traveling to one of the remotest parts of America where you suffered a fall from atop a cliff. Your traveling partner or the locals called an ambulance to take you to a nearby health center. Although the local doctors attended and gave your first-aid, they recommended immediate surgery to save your arm. And adding to the rigor of the situation, they did not have an equipped operation theater or surgical specialist to perform the surgery.
Unfortunately, if you ever come across such a pathetic situation in your life, not having adequate coverage can lead to even graver consequences. However, if you are wise enough to get a travel medical insurance for USA visitors plan that covers emergency medical evacuation, you are safe.
The process of medical evacuation works in the following way:
Your current doctor informs you they do not have enough medical facilities to treat you. So, you need to be taken to a medically equipped place. They certify your evacuation from that place to another as medically necessary.
You and/or your doctor then consults with your insurance provider to figure out the best thing to do to take you to another hospital.
Your insurance agency works with other facilities related to your treatment to ensure proper evacuation and transfer you to the receiving hospital.
You are hospitalized, and doctors perform immediate surgery and save you.
As needed you may have to complete the claim forms and submit the itemized bills. The rest of the formalities and monetary transactions are between your healthcare facility and your insurance provider.
As there are many insurance products available in the market, you should make sure to understand your requirements in the first place. As far as medical evacuation is concerned, keep these questions in mind and ask for the answers from your prospective insurance provider. Take a look –
What extent of coverage does your travel medical insurance for USA visitors plan offer for a covered medical evacuation scenario?
Who will decide if or not you need to be evacuated on medical grounds? How will the deciding committee come to a decision – on what factors?
Who will be responsible for coordinating your evacuation arrangements?
What situations are excluded from the list of medical evacuations?
Where would you be taken after evacuation – to your home country, a nearby eligible healthcare facility, or a facility of your choice?
So, are you willing to pay a whopping sum of more than $100,00 for medical evacuation or want your insurance provider to cover you? The choice is yours.
Loss of baggage
Do you know how it feels to arrive at your destination only to learn that your baggage is lost? It is one of the most inconvenient things to happen during an international trip. However, such mishaps are not rare.
According to SITA, a noted Airline Consultancy, around $1.25 billion of luggage was lost to mishandling in the year 2018. Out of the luggage worth $1.25 billion, 82% of the mishandling is attributed to theft, airline service providers losing the trail of the baggage, and flight delays.
What if you also become a part of these statistics?
With no travel medical insurance for USA visitors coverage, your money and essentials are gone with the wind. However, with an appropriate travel health insurance insurance for USA visitors plan, you can be assured that your insurance plan will cover the expenses of the necessities you have lost.
So, loss of baggage cover helps minimize your out-of-pocket expenses when you are left with no baggage in a foreign land. Different policies work with different approaches when it comes to covering lost luggage. So, make sure to check with your insurance provider about the limits and extent of coverage.
Travel delays
Flight delays are another aspect of an international trip. What if your flight is delayed? With a proper visitor insurance plan in place that offers travel delay benefits, you can take a sigh of relief. With most such plans, the coverage includes accommodations and meals during the waiting period.
Accidental Death and Dismemberment
Although the course of a journey is pre-planned, you can expect the unexpected to bother you at any point in time. Isn't it? While instances of meeting limb/life-threatening accidents are rare, these can cripple you and your finances for real if you meet one. Therefore, purchasing a travel medical insurance for USA visitors plan with Accidental Death and Dismemberment coverage can save your day, limb, and even life. According to this benefit, your insurance company will compensate the policyholder (you) or the beneficiary if you happen to suffer an accident resulting in loss of limbs, eyesight, or life. So, make sure to include this cover in your travel medical insurance for USA visitors plan before your international trip.
Emergency reunion
This coverage option compensates for the transport of one family member or relative you choose after emergency medical evacuation. The benefit covers the meals and accommodation of that person for up to fifteen days.
Repatriation of Remains
Unfortunately, there are situations in which the policyholder dies during the trip. If something like this happens in your case, this benefit will cover the cost of repatriation of your mortal remains to your home country. It also covers cremation or burial costs if you choose to do so. Otherwise, your travel companion has to bear all the expenses. It is not acceptable and affordable in any case.
Cost of Extrication
What if there is a political situation happening in your destination country? What if you need to be extricated from there because the relevant authorities suspect physical injury or mortality? Will your visitors' insurance plan cover the cost of extrication? Yes, it will. However, make sure to confirm the same with your insurance provider beforehand if or not the policy you intend to choose offers this benefit. And, if you think you need this cover, inform your service provider.
Travel medical insurance for USA visitors in a gist!
Whether you are going on your honeymoon to a romantic getaway or a jungle safari in a foreign land, you are always at the risk of being involved in travel-related mishaps, sickness, or injuries. And, dealing with such issues outside your home country can lead you towards a financial mess if you do not have sufficient travel medical insurance for USA visitors coverage. Here is how:
First of all, the cost of healthcare in an overseas country could be expensive enough to burn holes in your savings. And secondly, navigating through and accessing the healthcare system of an overseas nation can be a hard nut to crack.
So, what can you do to protect yourself and your finances in an international destination? In this context, the best thing you can do to yourself is to buy best visitor insurance plan from a reputable insurance provider.
A travel health insurance for USA visitors plan can pay for your overseas medical care, medical evacuation, hospitalization, treatment, and many other trip-related benefits. However, to make sure that your insurance comes out as effective at the time of need, you should buy it from a reliable insurance provider.
Frequently Asked Questions on Visitors Insurance
What do you mean by a multi-trip travel medical insurance for USA visitors plan?
If you are a frequent international traveler, a single-trip insurance cover is good to go. Your policy term ends with your trip. However, if you often go overseas, this single-trip arrangement might not be a suitable option for you as it covers only a single trip, as the same suggests. It is where a multi-trip travel medical insurance for USA visitors plan comes into play. This arrangement covers multiple trips while giving you peace of mind. Choose a reliable insurance broking firm and find yourself one of the best travel medical insurance for USA visitors plans.
Who can use the multi-trip visitor insurance plan?
This plan is suitable for the following category of travelers:
US residents who do not have foreign travel cover can go for a multi-trip visitor insurance plan for healthcare benefits across the border.
Non-US nationals can also buy multi-trip plans to visit the United States of America and other countries.
With a trustworthy travel medical insurance broker, you can compare and choose from a long list of top-rated service providers. You can buy and get a copy of your policy documents on their websites.
What is not included in a travel medical insurance for USA visitors plan?
Any loss, injury, or Accidental Death and Dismemberment due to the following reasons are not covered by a travel medical insurance for USA visitors plan:
Self-harm
Attempt to suicide
Suicide
Act of war
Illness or injury due to a legally intoxicated situation
This list is not all-inclusive. For more details, refer to the exclusion section on your policy copy.
Are there travel health insurance for USA visitors plans to cover COVID-19 overseas?
Yes, you will find policies related to COVID-19 coverage. However, not all policies cover the same. Therefore, check with your insurance broker for more details.
Disclaimer: This content is just an overview of the plan benefits presented only as an example and does not replace the Insurance Certificate and other relevant policy documents in any way. The only presentation of the actual benefits of the policy is the Insurance Contract.