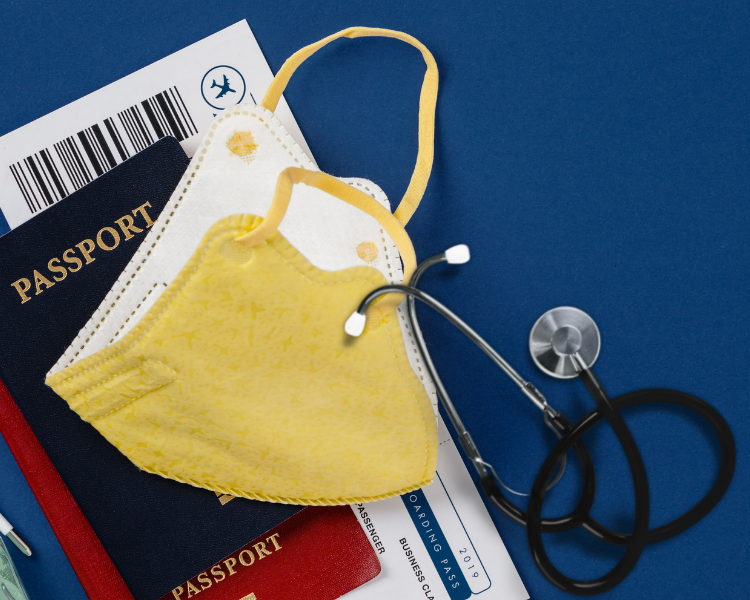 Breaking news, restrictions on travel, new travel guidelines, and all such things have again started to pace up. If you have already made a travel plan for 2022, you never know when you have to change them. And, if it happens mid-way, it will add to your travel woes like nothing else.
Therefore, it would be wise to consider getting an all-encompassing Visitor Health Insurance plan as a top priority. It will ensure that your finances are protected during your trip, and you have peace of mind. However, most travelers often ignore investing in Travel Health Insurance until misfortune strikes. This thought process needs to change.
Did you get your extra sheath of defense?
Are you planning a trip overseas? Did you get your copy of travel medical insurance yet? Many travelers see purchasing a Travel Health Insurance plan as an expensive affair. Adding an extra sheath of protection does not have to be pricey if you choose the right insurance partner.
If your travel itinerary includes multi-city stays overseas, jungle safaris, luxury hotel accommodations, scintillating cruises, and everything magnificent and big-ticket, Travel Health Insurance can save you big time. True!
Let us learn more about this extra layer of defense!
Who would ever want to become sick or suffer an injury during a trip? It is, in fact, the most devastating or depressing thing that can happen to anyone. Isn't it? It is where travel medical insurance comes to the rescue. This insurance policy is especially crucial if you are traveling outside your home country.
How do you define travel medical insurance?
It is an insurance product that covers emergency medical bills during an international trip. In simple words, if you unexpectedly become ill or meet with an accident while traveling, your travel medical insurance will pay on your behalf according to the policy wordings and plan limits.
For example: If you are traveling to the USA and you suddenly get a medical condition, your travel medical insurance provider will reimburse you for the following expenses:
Medical bills
Ambulance services
Hospitalization charges
OT (operation theatre) charges
Medicines
Diagnostic tests, among others
What are the types of Visitors Health Insurance plans?
Basically, there are two types of Visitors Health Insurance. These include the following:
Fixed coverage plan: As the name suggests, these plans pay a fixed amount for each covered benefit to the policyholder. The benefits schedule is typically published in the plans brochure and policy document. The policies that fall under this coverage provide benefits for emergency medical as well as emergency medical evacuation emergencies. However, these plans are less likely to cover your baggage or trip interruption.
Comprehensive coverage plan: These plans provide comprehensive benefits and pay more than fixed/limited coverage plans. Apart from emergency medical expenses and emergency evacuation, a comprehensive Travel Health Insurance policy may also cover trip interruption, loss of baggage, to mention a few. So, it is quite understandable that it covers many potential issues that may come up while traveling.
An important point to note here is: Visitors' health insurance is designed for covering health emergencies and new health issues while traveling overseas. Pre-existing conditions are not covered.
Is COVID-19 covered under travel medical insurance?
Whether a Travel Health Insurance plan will cover COVID-19-related expenditures or not varies from one insurance company to the other, depending on the policy you choose. Therefore, it is advisable to confirm the same before zeroing in on a plan if you need it.
If a plan says that it covers COVID-19 related expenses, it is likely to pay for medical expenses, including medications, tests, doctor's bills, and hospitalization. It may also offer insurance benefits like the cost of quarantine, and travel delay, among others.
Here is an example to help you understand the scenario in a better way:
Unfortunately, you get a coronavirus infection during your trip. And, you have to extend your trip due to quarantine and other formalities. In such cases, your insurance provider is likely to pay for the additional costs incurred due to the condition.
Pro-tip:

When we say COVID-19 coverage, it is pretty obvious that insurers would have different plans on their retail aisles. Therefore, you need to make sure to read the policy documents carefully before buying one. If technical jargon is getting on your nerves, jokes apart, talk to your insurance broker for assistance.

Most importantly, with travel regulations evolving around the pandemic, different countries have different Travel Health Insurance norms to follow. Due to this shift, many new policies are also emerging to meet those requirements.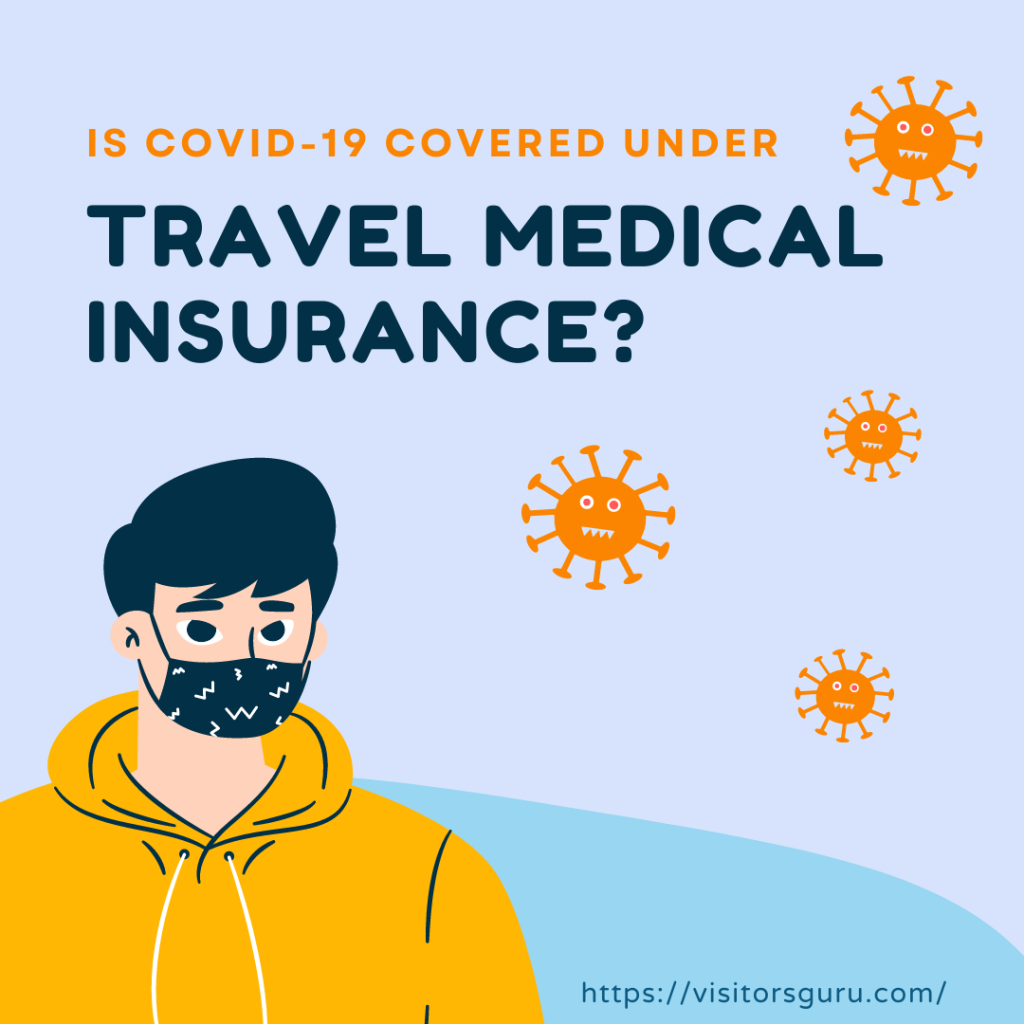 What is an emergency medical evacuation cover?
It is an insurance cover that reimburses you to reach out to the nearest healthcare facility, in some cases, even back to your home, owing to a medical emergency.
For example, you are holidaying in a place where there are no medical facilities or are not up to the mark (a remote destination), and you contract a health condition. So, your insurance provider will pay for your evacuation.
According to the U.S. Department of State, emergency medical evacuation back to the country (USA) can be as costly as $50,000 or even more. So, if you are traveling to a remote destination of the world, make sure to have this cover in place.
Another vital point. The rules for evacuation may also vary from one policy to another. Be informed about the same.
Try the policy comparison feature!

With a user-friendly insurance broking website, such as VisitorsGuru, you get to use a free policy comparison feature. It is an added advantage. It allows you to compare multiple policies available with various insurance providers. Plus, you can also ask for free price quotations.

When you compare different policies, it will give you an insight into what different policies have to offer so that you can buy accordingly.
What is not included in your travel medical insurance?
By now, you have got a fair idea about what standard travel medical insurance plans cover. Right? Now, it is time to learn about the typical exclusions. Keep reading!
Pre-existing medical conditions: Most Travel Health Insurance plans are less likely to cover pre-existing medical conditions. So, if you have one, make sure to inform your service provider beforehand. Although most insurance plans do not cover pre-existing health conditions, some cover the sudden onset of symptoms owing to a pre-existing condition while traveling.
For example, if you have chronic kidney disease (CKD) at the time of buying the policy, it will not be covered. However, if you suddenly fall ill and experience symptoms related to CKD during your trip, your insurance provider may cover it.
Drug use or intoxication: Most travel medical insurance plans are less likely to cover emergency medical expenses as a result of drug use or intoxication.
For example, if you are under the influence of drugs and fall off the car and break your leg, your visitor health insurance will not pay for your medical bills.
Adventurous or dangerous activities: Some visitor health insurance plans will not pay for the expenses incurred due to indulging in adventurous activities like parasailing, mountain climbing, and skydiving, to name a few. If your travel itinerary involves such activities, make sure to discuss your options with your Travel Health Insurance broker. The best thing to do here is – visit a reliable insurance broking website, open their policy comparison meter, compare the plans, and choose the one that covers adventurous and dangerous activities.
Besides pre-existing conditions, drug use or intoxication, and adventure sports, other common exclusions may include the following:
Weight modification surgeries
Routine medical examinations
Vaccinations
Organ transplant
Corrective devices
Whether inclusion or exclusion, in order to be sufficiently covered, you should have an idea of all of it. If you fail to do so, you might not get the extent of cover you are looking for. It could be a problem.
Who should opt for visitor health insurance?
Every traveler should have some sort of visitor health insurance while traveling overseas. Some of the most prevalent medical emergencies that may cripple your trip include the following:
Slip and fall accidents
Heart conditions, such as stroke and heart attack
Respiratory issues like a collapsed lung
Accidents associated with motor vehicles
If you do not have adequate travel medical insurance coverage and become injured or sick during your trip to the U.S., you are most likely to get stuck in a vicious circle of out-of-pocket payments.
Although everyone should get a copy of travel medical insurance before traveling, senior travelers should pay special attention to the same.
What is the standard cost of a travel medical insurance plan?
The cost of travel medical insurance is likely to vary from one service provider to the other, depending on the following determining factors:
The duration of the trip
The age of the travelers
The extent of coverage chosen
Therefore, it is highly advisable to work with your insurance provider to understand a policy before buying it. The policy comparison feature available with the leading insurance broking websites can help you compare between multiple options while helping you choose the right plan. However, make sure not to make price the only determining factor. Focus on choosing sufficient coverage. With a customer-centric and trustworthy insurance provider, you will find a Travel Medical Insurance plan at reasonable rates.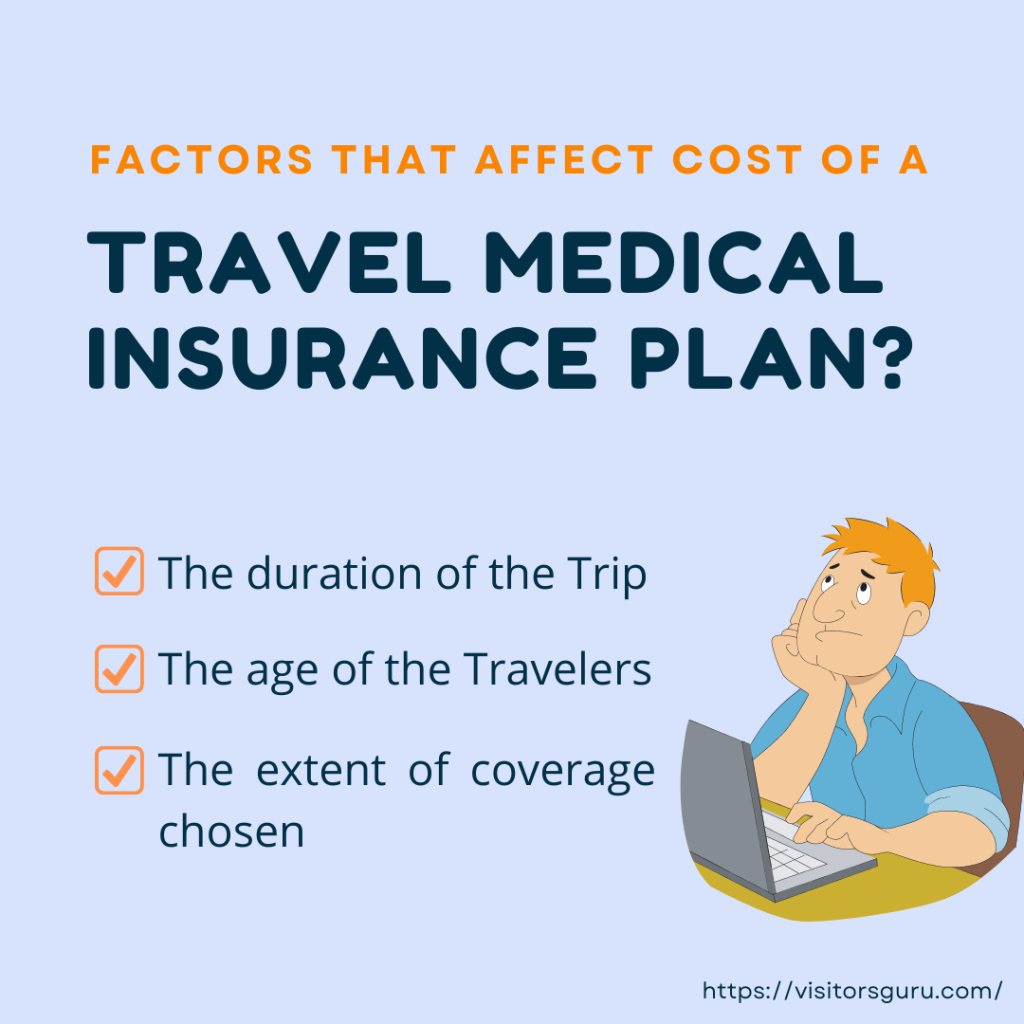 How much visitor health cover should you get?
It is always smart to choose a plan adequate to protect your finances from the unforeseen.
According to the CDC (Centers for Disease Control), emergency medical evacuation can cost up to $100,000. In light of this cost (you never know you may need it), you should make sure to be generously covered.
Frequently Asked Questions–
Do you need to buy travel health insurance if you already have adequate health cover?
Most health insurance plans do not cover medical emergencies outside your home country. So, if you become sick or get injured in an overseas country, your health insurance might not come in handy, and you may have to pay out-of-pocket. In a country like the USA, where healthcare costs are super-expensive, out-of-pocket expenses can burn holes in your pocket. Senior citizens should especially get insured before traveling internationally to ensure quality treatment on time in a foreign country.
What if you fall prey to a medical emergency on an international trip? How will you use your visitor health insurance plan there?
If you are stuck in a medical emergency on an international trip, get in touch with your insurance provider at the earliest for assistance. You may also contact your insurance broker to guide you through the process. They operate 24X7 to help their customers receive the best possible healthcare abroad. Their services include language interpretation, coordinating with healthcare facilities, and arranging medical evacuation (if needed). Feel free to talk to them for prompt treatment without any hassle.
Which Travel Health Insurance plan is the best – fixed benefit insurance or comprehensive cover?
There is nothing called the best Visitors Health Insurance plan. A plan that suits your needs and budget is the best for you. As far as choosing between fixed benefit insurance or comprehensive cover is concerned, it again depends on your requirements.
For example – if you want to be covered against trip delay, baggage loss, and trip interruption along with medical coverage, a comprehensive cover should be the right pick for you. However, if you are only looking for protection against medical emergencies, a fixed benefit plan makes the best bet.