Picture this imaginary scenario!
Me: Dad, I'm going to visit the States soon.
Dad: Wow! That's great! Don't forget to get a travel medical insurance plan, Son.
Me: Oh please, I am going there for a vacation, Dad. I cannot bother about these things right now. I have to get new clothes and a bag first.
Dad: Okay! Cool! You can always get those things. But, visitors insurance is more important, Son.
Me: Don't worry, Dad. Relax. Nothing will happen to me. We are going on a vacation.
After reaching the United States of America!
Me: Dad, I have reached safely. See, I told you, nothing will happen.
Dad: Okay, Son. Enjoy!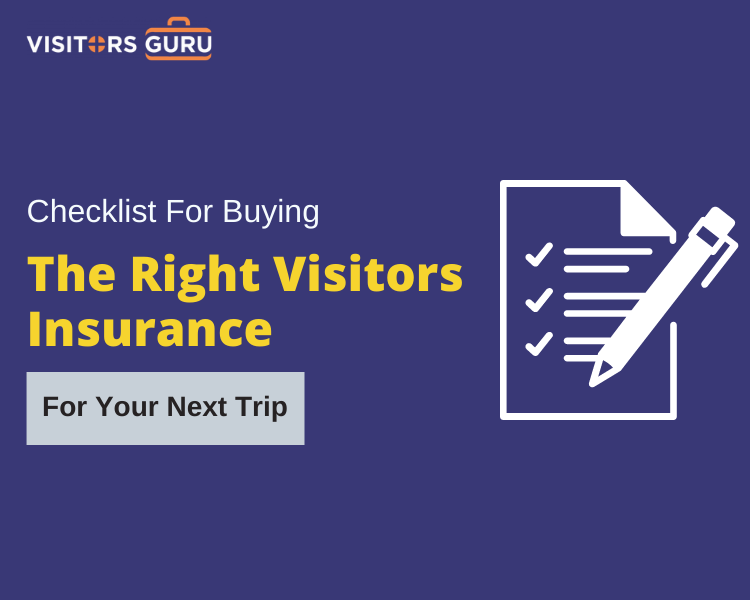 A couple of days later!
My Friend: Uncle, your son, is in hospital. He got injured in an accident. Uncle, we have spent all we have. Plus, he did not buy a travel medical plan even after we insisted. Can you please do something?
Dad: I also told him to get a Travel Medical Insurance plan, but he did not listen. Anyways, let me find a way.
Dear reader, hopefully, you have read the above conversation. Although it is a hypothetical one, unfortunately, medical emergencies can pop up out of the blue, whether you are at home or enjoying your international vacation in the same way as above. And, when you are overseas, things can become more tricky and troublesome.
When planning a trip abroad, we prepare for everything – sightseeing, parties, nightlife, clothes, food, and whatnot. We make sure that everything is in place. However, many of us have no backup for unexpected medical scenarios, such as injury or health conditions.
Whether it is a torn meniscus or a severe stomach upset, anything can happen over an international trip. No wonder emergencies are somewhat omnipresent. And, the only thing that can guard you against medical situations in a foreign land is a good travel medical insurance or visitors insurance plan. So no matter wherever you go, let your visitors insurance follow you!
Finding the right travel medical insurance policy
As the market is flooded with numerous insurance companies selling across all sorts of visitors insurance policies, initially, you might get confused. First of all, because you are probably not familiar with this domain, and secondly, every insurer claims to be the best. So, getting perplexed is evident.
However, thankfully, you have got some excellent online insurance broking platforms like Visitors Guru to help you make the right pick. These platforms take out the hassle of visiting each insurance provider on your list one by one. Using such user-friendly platforms will allow you to compare a range of travel medical insurance policies from all the top-rated insurance carriers at a time. Plus, you can also obtain free price quotes.
As you are going to buy a travel medical insurance policy for the first time, you might have a bunch of questions and queries crossing your mind. Right? Do not worry. The below checklist will help you find the right insurance coverage for your upcoming international trip. Read on!
Do you know about the types of travel medical insurance policies?

Before buying a visitors insurance plan for your next trip, make sure to go through the fine print properly. Whether your insurance plan offers fixed or comprehensive benefits will decide how well you are covered.
| | | |
| --- | --- | --- |
| Type Of Visitors Insurance | Fixed Benefit | Comprehensive |
| Extent of Coverage | As the name suggests, these plans are good for covering lower risks. For travellers looking for basic coverage, such policies are sufficient. | Comprehensive travel medical insurance products provide enhanced coverage and offer more flexibility. |
| PPO Network | With fixed benefit plans, PPO is less likely to be there. You can go to any medical professional you want. Your policy will pay for the treatment according to the preset rates in your plan. | Most comprehensive travel medical insurance policies have a PPO network. PPO network means more chances of acceptance within the network and better discounts. |
| Cost of Insurance | Cheaper than comprehensive. | Comprehensive plans come at higher premiums. |
| Coverage for Travel-based expenses. | Fixed travel medical insurance plans do not cover travel-related expenses. | You will get cover travel-related expenses, including baggage loss, trip interruption, terrorist attacks, return of the mortal remains, etc. |
Does your visitors insurance plan have a PPO network?
Most visitor health insurance policies come with a list of healthcare service providers, the PPO (Preferred Provider Organization Report). It comprises the list of hospitals and doctors tied up to your insurance provider. Always remember, you are likely to get better coverage for choosing a healthcare facility or doctor from the list. So, before buying any plan, check the PPO network.
Is your travel medical insurance plan renewable?
Is there any provision to renew or extend your travel medical insurance coverage? Make sure to understand it carefully before zeroing in on any particular plan. If you happen to renew or extend the term of your travel medical insurance policy before the policy expiration date, your insurance provider will not consider it a new plan. Take a quick look at the below pointers:
If your current visitors insurance plan is renewable, you are good to go. The reason? It will not categorize any health condition as a pre-existing one that occurred during the initial term of the policy.
If you buy a new plan, any medical condition that happened during the first phase would be deemed as a pre-existing illness.
To buy a renewable policy, you may not need to shell out any additional fees with a reputed insurance provider. So, make sure to get a renewable plan for enjoying maximum flexibility.
Did you go through the reviews?
A couple of years back, you needed to find the state directories and Yellow pages to find the names and contact details of service providers active in your state. However, with the advent of the World Wide Web, collecting information has changed drastically. Now you can do it online. So, try to leverage the online platform and learn about the products and services delivered by the travel medical insurance carriers on your list. Reviews are the new word-of-mouth that provides you with a lot of useful information to make your selection more hassle-free than before.
Did you check out a trusted insurance comparison site?
Which online platform are you considering buying a travel medical insurance policy? Do you know there are many reputed third-party portals like Visitors Guru that allow you to compare different travel medical insurance plans from the leading insurance companies? Yes, that's right? So, you can use their websites to do your homework, compare various insurance products, and get unbiased reviews. What are you waiting for?
Conclusion
Now that you have a better insight into the concept of travel medical insurance products and the things to consider before buying one, choose a reliable comparison platform and find out a plan that is worth the salt. Always remember, nothing can be your best friend in a foreign land other than an all-encompassing travel medical insurance policy. So, before you pack your bags for your next trip, make sure that you have your travel medical insurance policy with you and enjoy peace of mind throughout your journey.
Disclaimer: This content is just an overview of the plan benefits presented only as an example and does not replace the Insurance Certificate and other relevant policy documents in any way. The only presentation of the actual benefits of the policy is the Insurance Contract.
Our social media posts and the website serve as a platform to provide the users with relevant content, links, and references to various information. Some of the content is third-party content developed by third parties.
All users should assess the currency, usefulness, reliability, and accuracy of the information, advice, or opinion given in the third-party content. It is advisable to seek professional advice when it comes to evaluating any particular piece of information, document advice or opinion given in the third-party content.